Transformišite odnose sa svojim tinejdžerima – besplatno uvodno predavanje
Osnovni podaci o kursu
Želite da transformišete odnos sa Vašim tinejdžerima? Vaše dete je postalo tinejdžer i sve se promenilo? Ne možete više da uspostavite komunikaciju, ne znate kako da mu priđete, stalno se svađate ili vas jednostavno ignoriše?
Šta se desilo sa onim divnim detetom, šta se desilo sa vama? Pitate se gde ste kao roditelj pogrešili i osećate da treba nešto da promenite. Odakle da počnete i i šta treba da uradite?
Koliko i šta uopšte znamo o tinejdžerima? Verovatno ne deluje tako, ali tinejdžerima je u stvari jako stalo do mišljenja svoje majke i oca. Oni čeznu za zadovoljnim pogledom roditelja. Često lažu svoje roditelje, ne u nameri da zaštite sebe od moguće kazne ili kritike, nego da bi sačuvali svoje roditelje nerviranja. straha ili ljutnje.
Zar onda naši tinejdžeri ne zaslužuju da se potrudimo i naučimo pravi put do njihovog srca? I da naučimo kako da živimo život pun ljubavi i zadovoljstva?
Ako ovo čitate, već ste napravili prvi korak!
Znači da ste spremni da radite na sebi. Hajde onda da nastavimo i transformišemo odnose sa vašom decom tako da budu prožeti međusobnim poštovanjem i saradnjom, a da svaki član porodice preuzma sopstvenu odgovornost. To je moguće!
Pozivamo Vas da prisustvujete ovoj radionici, kao koraku ka boljoj komunikaciji, boljem razumevanju i boljem odnosu sa svojom tinejdž decom. Krenite put promene, oni će to osetiti.
Jako je važno stvoriti (ne samo fizičko i finansijsko, već i emotivno) bezbedno područje za odrastanje. Jako je važno da Vam vaša deca veruju, da osećaju bliskost i sigurnost da sa vama dele, da vas uključuju u svoj život. Kako to izgleda u praksi, šta kada nastanu problemi i kako da budete prijatelji, a ne neprijatelji, čućete od vrsnog predavača, pedagoga i roditelja Dijane Radojković.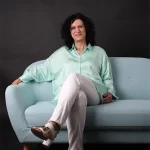 Dijana Radojković je majka dva bića koja su danas svoji i odraslli ljudi. Ona je međunarodno sertifikovani edukator za roditelje u oblasti pozitivne discipline. Završila je brojne edukacije i kurseve među kojima su i "Mindfullness", "Mindfullness Certification", "Terapija usmerena na saosećajnost", "Solving the mystery of parenting teens" i druge. Svoje iskustvo i znanje usmerila je u radi sa roditeljima, ali i tinejdžerima kako individualno tako i grupno na radionicama.
Prijavite se za praćenje online ili uživo, za uživo praćenje broj mesta je ograničen. Takođe zapratite našu instagram stranicu Life Balance Ovde.
Show More
Šta ćeš naučiti?
Proširićete svest o načinu komunikacije sa tinejdžerima

Unapredićete način obraćanja svojoj tinejdž deci

Bolje ćete razumeti potrebe svojih tinejdžera

Upoznaćete druge roditelje koji su susreću sa sličnim problemima

Razumećete bolje sebe
Student Ratings & Reviews
No Review Yet