U podlozi svakog osećaja sreće je biohemijska podloga koja se dešava u našem telu
✅ Dopamin ili hormon sreće je neurohormon koji nam brzo podiže životnost, uzbuđenje, radoznalost. Ali pruža kratkorajan osećaj sreće. Aktivira se recimo kada vidmo neki post na društvenim mrežama. Što je između ostalog i razlog što provodimo mnogo vremena na istim. Ili kada pojedemo nešto što volimo, istuširamo se, obavimo neku obavezu i tako dalje.
Ali nam ne pruža dugotrajan osećaj sreće. Dopamin je hormon koji se luči u mozgu u trenucima kada nagradimo sebe. Najbolji primer za to je hrana. Sama pomisao na to da se večeras jede kutija sladoleda i porodična pica nas momentalno učini srećnim. A ta sreća će biti još veća kada taj trenutak dođe.
Međutim, ukoliko ove radnje ponavljamo stalno, iz dana u dan, dešava se to da imamo previše dopamina u mozgu. Receptori postaju imuni na njega, i praktično imamo osećaj da ga nema. Onda želimo još slatkiša i stvara se krug i povećava se telesna težina koju prati krivica.
✅ Oksitocin, koji se još zove hormonom ljubavi, čini da se dugotrajno osećamo dobro i srećno. Iskren zagrljaj je najbolji put do oksitocina. Luči se i onda kada smo povezani sa drugima, kada osećamo pripadnost i ljubav. Oksitocin predstavlja hormon koji se luči u prilikama kada uspostavljamo bliske odnose jedni sa drugima, kada saosećamo ili se poveravamo nekome. Zašto onda ljubav nekad boli? Pročitajte ovde.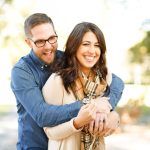 Osobe muškog pola prirodno proizvode niže količine oksitocina od žena. Za muškarce je funkcija oksitocina manje važna. Međutim, studije u kojima su učestvovali muškarci, koji su u monogamnim vezama, publikovale su zapažanja da kod njih ovaj hormon može da doprinese održavanju vernosti, povećavajući privlačnost njihove partnerke u poređenju sa drugim ženama.
✅ Endorfin i Seratonin, hormoni zadovoljstva se posebno luče u detinsjtvu. Jer tada smo bili ušuškani, namireni i povezani sa roditeljima. Kroz život nam fali ovaj osećaj. Zato nekad posežemo za spoljašnim stimulansima koji nam pružaju kratkotrajno ovaj osećaj, kao što je čokolada ili ljuta papričica.
Endorfin je hormon koji ima analgetsko dejstvo. Ali izaziva i osećaj euforije i snage. Može se reći i da je hormon kontrasta. Odnosno da nastaje u bolnim, ali i prijatnim situacijama. Posle napornog penjanja na planinu ili kupanja u hladnoj vodi, ljudi vrlo često doživljavaju osećaj euforije. To je neka vrsta legalnog dopinga. Ljudsko telo tako reaguje na pozitivan stres.
✅Ono što dugoročno uništava naš osećaj sreće je visok nivo Kortizola koji skače pod uticajem stresa i loših emocija. Može da bude "okidač" za niz zdravstvenih nevolja.
Produkcija serotonina, endorfina i dopamina, između ostalog, može da se podstakne odgovarajućom ishranom i fizičkom aktivnošću.
Koje hormone Vi hranite i kako❓
Pišite nam i pratite nas na instagramu, ovde.