Zašto nas izjeda emocionalna glad?
Hrana postaje nešto čime zadovoljavamo ne samo potrebu za hranom. Već i mnoge druge nenamirene potrebe.
Što više jedemo to smo više gladni. Jer naša glad ne dolazi iz želuca. To je emocionalna glad.
Kada kao male bebe plačemo ili smo "kmekavi" obično smo gladni. Ili pak žedni ili nam se spava. Mama ima nepogrešiv osećaj šta treba bebi. I kada namiri njenu potrebu beba je srećna i zadovoljna guče ili spava.
Kao odraslim ljudima naš mozak šalje signal našim ćelijama u telu da imamo neku potrebu. Jer smo recimo nenaspavani ili neraspoloženi. Pa često dolazi do konfuzije u organizmu. I ne prepoznajemo šta je naša prava potreba. Jer nema mame da nas namiri nego se oslanjamo na brigu o sebi.
Ako nismo povezani sa sobom i onim šta nam naše telo poručuje mi to prepoznajemo kao potrebu za hranom.
Šta se onda dešava? Posežemo za hranom. Odnosno za grickalicama. Naročito čokoladom. I osećamo se bolje istog trenutka.
Sve ovo radimo potpuno nesvesno upadajući u začarani krug nesvesnih o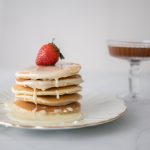 brazaca ponašanja. Još ako se na to doda praćenje osećaja krivice… Zatim rasplamsavanja unutrašnjeg kritičara usled posezanja za slatkišima, stvari postaju još gore. Budi se nezadovoljstvo što se ne hranimo zdravo. Ili zato što dobijamo na kilaži.
Kako to prevazići?
▶️Trenutno, tako što ćemo biti prisutni i osvestiti odakle dolazi glad. Da li dolazi iz želuca ili ne. Ukoliko ne dolazi iz želuca ne radi se o potrebi za hranom. Dovoljno je da na nekoliko minuta promenimo fokus, misli i pažnju na nešto drugo. Ukoliko nas u tom trenutku nadjačava uverenje da to neće delovati i pomoći setimo se nečega u svom životu u čemu smo bili istrajni što je za nas bilo delotvorno. I budimo na tome zahvalni.
▶️Dugoročno ovaj pokvareni mehanizam možemo popraviti tako što ćemo uspostaviti prirodni ritam spavanja. Zatim smanjiti stre. I na kraju uspostaviti dnevne rutine. To nas vraća u prirodni balans.
Možemo promeniti samo ono čega smo svesni. Moć je u nama. 😊❤️🙏
Pišite nam u komentarimo ispod kako izgleda emocionalna glad na vaš način. I prepreke sa kojima se vi susrećete. Takođe, zapratite našu instragram stranicu lifebalance.rs gde vas očekuje pregršt zanimljivog materijala.